What is the certificate for?
Access to courses is free in audit mode, however you can request an electronic certificate for a fee.
Highlight your new knowledge with a certificate to improve your job prospects and advance your career, or highlight your certificate when applying for admission.
Benefits of the certificate
Official: Receive a certificate signed by the instructor with the institution's logo
Shareable: Add the e-certificate to your resume or post it directly to social media
Motivating: Give yourself an additional incentive to complete the course
Altruistic: EDUlib, a non-profit organization, ensures its funding by the purchase of the certificates. This funding is used to improve and update courses, maintain the EDUlib platform and create new courses.
You will be able to request the right to upgrade (verified) at any time up to two weeks before the end of the course. The deadline for upgrading will be indicated at all times on the course homepage. 
How do I request my certificate? 
To request your certificate, you must
Make the request via the ". request a certificate" icon in your dashboard as soon as possible to make the payment*. Payment must be made with a Visa or Mastercard credit card, we do not accept any other method of payment.
Verify your identity. Identity verification will be offered after payment, you will need to submit a photo of your face with a neutral expression and a photo of a valid government ID.
After reaching a passing grade in the course, watch the course progress page for more information.
Go to the course progress page and click on the blue "Request Certification" button. Then you can download it.
  *In some courses, the certificate is available for free (skip steps 1 and 2). When you get the passing grade, visit the "Progression" page. 
How does identity verification work?
Follow the instructions available directly on the identity verification page. (URL)
First, you will take a photo of yourself. Next, you will take a photo of a government issued photo ID.

Next, you will be asked to reconfirm that your name exactly matches your ID. Please click on "Next".

Finally, you will see a page with your two photos, as well as your name. After confirming your information, click "Submit".
Please allow 24 to 48 hours for this step. Our agents verify identities daily, Monday through Friday. During the verification period, your dashboard will display a message informing you that the application is being processed.

If your computer does not have a camera, you can also use a mobile device with a camera by opening your account settings page on the mobile browser and changing your name. You can also borrow a friend's computer to verify your identity and then use your own to take the course.
The name on the certificate is not correct, what can I do?
To change the name that appears on the certificate, visit your account settings directly here:  here: https://cours.edulib.org/account/settings  
Change your name in the full name field. When you are finished, click out of the field to save the change.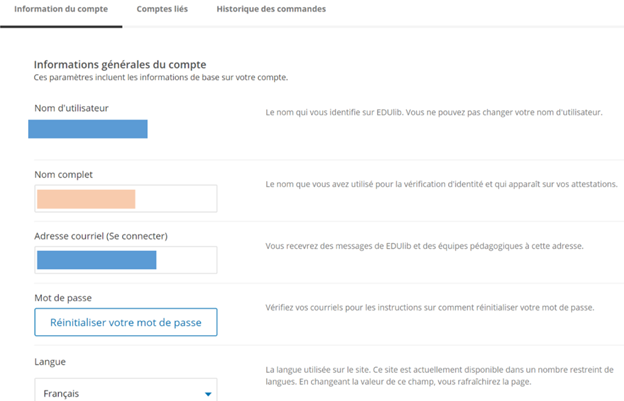 Note: You can change your full name, but you cannot change your public username.
The deadline for requesting a certificate has passed, what should I do?
The certificate is available from the beginning of the course until 2 weeks before its end. Unfortunately, if the upgrade period has ended and you did not purchase the certificate, we have no recourse. If you wish to obtain the attestation you will be able to retake the course the next time it is offered.
Sign up for our biannual newsletter to receive notifications about new courses and courses that will be available again!
The deadline for identity verification has passed, what should I do?
If you have already paid for the certificate, there is no problem, we accommodate manual verifications. You must send us your invoice number and photos by email at support@edulib.org. We will be happy to process your request.
 
We need two photos: 
a photo of you with a neutral expression 
a photo of a government photo ID (driver's license, passport, etc.)