Who can take EDUlib courses?
EDUlib courses are open to the whole world. They are therefore intended for all those who wish to perfect or broaden their knowledge. Any individual with a valid email address can create a user account on EDUlib.
How do I sign up for a course?
Registration is on a rolling basis, depending on course availability. There are no restrictions on the number of classes you can take.
In our catalog, check the start and end dates as well as the estimated effort (duration) before you register. A registration button will be visible on the course description page if available. Most of the courses offered are self-paced and remain available over a long period of time allowing you to spread your study over several weeks.
The course I want to register for is not available. Will it be published again?
Most of our currently unavailable courses will be back after an update, however their future release date is unknown to us.
Sign up for our bi-annual newsletter to receive notifications about new courses and courses that will be available again!
I have a question about my course contents
Visit your EDUlib dashboard to access your course and visit the first module of your course for information on how to proceed. 
If you have any questions about the course content, visit the first module of the course for details, note the dates you see there. If necessary, communicate with your teachers in the course discussion forum. It is accessible in the tab at the top of your course interface. Our content is not sent by email, the courses are followed on our site, online.
My course will soon be archived, what does that mean?
The course material will always be available to students who were able to register for it before archiving, as long as EDUlib can keep it online, that is our policy.
Your course will still be visible for consultation from your dashboard after archiving. However, it will be too late to request a certificate of completion if you reach the necessary requirements after the end date of the course. It is possible to retake the course in a future session.
Usage rights and downloads
Content that you can download without the help of third party software can be kept for personal use. This concerns all content available on EDUlib, including images, PDF files, powerpoint presentations and downloadable videos. Reusable files are marked with a Creative Commons license with certain conditions of reuse. 
We do not authorize the reproduction or reuse of content for commercial training purposes or internal training in companies, a reuse agreement can be negotiated with our sales representative.
Is it possible to download the videos to watch them on the go?
This is possible in several courses on EDUlib, but not all. The choice is up to the course managers, who may choose not to make their videos downloadable for copyright reasons.
Consuming course contents
How do I access the course outline?
If you have not yet enrolled in a course, you can read the course outline on the enrollment page to get an overview of the contents.
After registering for the course, click on the Course tab in the top menu of the course interface to access the course table of contents. Click on the title of a section to view its contents.

How do I browse the course content?
Each of the course modules is divided into sections. The sections are displayed in the breadcrumb trail at the top of your course interface.

A section can be composed of several pages (or units). In this case, you will see several tabs in the horizontal navigation bar at the top of the page. To move from one page to another, simply click on the tabs.

You can also use the Previous and Next buttons at the bottom of the page.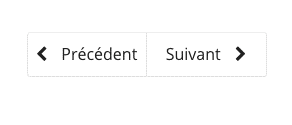 Why can't I see the videos ?
It is possible that you are in a place where it is impossible to view videos from YouTube. For example, this could be your school or your workplace. It is also possible that you have a low-speed Internet connection.
If this is the case, try viewing the videos from another location, such as your home or a public library.